Creamy, smooth vegan goodness.
We left no stone unturned to find a premium formula that would provide the comfort and wearability that we all expect.
Our beautiful bespoke formulas come from Italy where so many of the worlds best are made. Vegan, gluten free AND created with passion and purpose, they are so clean your lashes and eyes will thank you for it. Enriched with our powerhouse ingredient - argan oil - for healthier, thicker, beautifully nourished lashes. 
Unique in every way, our buildable formulas remain soft and flexible meaning you can apply one or more coats and always get stunning results. No flaking, no panda-eyes, no nasty chemicals - Always cruelty free, we promise.
Colour Explosion Formula
No Clumping, no frustration. Great for every day, your way.
Just a beautiful, soft formula that dries quickly - leaving more time for fun!
Our premium Colour Explosion formula will help you achieve a stunning polished look leaving your lashes fully covered from root to tip with no mess or clumps. Our exclusive infusion of ingredients creates the perfect finish from breakfast til dinner.
Experience the difference with our combination of delicate esters derived from olives, Rice Bran, Carnauba and Candelilla enriched with Argan Oil to help nourish your lashes. Leaving them stronger and longer.

Available in 2 popular colours – Midnight Black and Rich Chocolate Brown.
Formula comes to you all the way from Italy.
Water Resistant Formula
How does mega length, volume, and smooth textures sound?
Our premium Water Resistant Formula is composed of hard and soft waxes for long wearing, tear jerking, caught out in the rain moments (and everything in between)
Formulated to solve the problems of thin and short lashes, this lightweight, durable formula can be worn by anyone and will be loved by everyone
Daily wear without damaging your lashes
This is your new best friend – the best formula you will
ever wear as it's simply a fabulous combination.
Formulated to get you through an entire day at work AND
still have you pulling your best downward dog all the way through your hot yoga
class. We have that on good authority,
Our friend proudly wore hers in AND out of her class!
And to top it off, it comes off easily without taking any of your lashes with it. Ready to be applied to your lashes tomorrow.
Only available at this time in Midnight Black

I've made the trip from Italy especially for you too!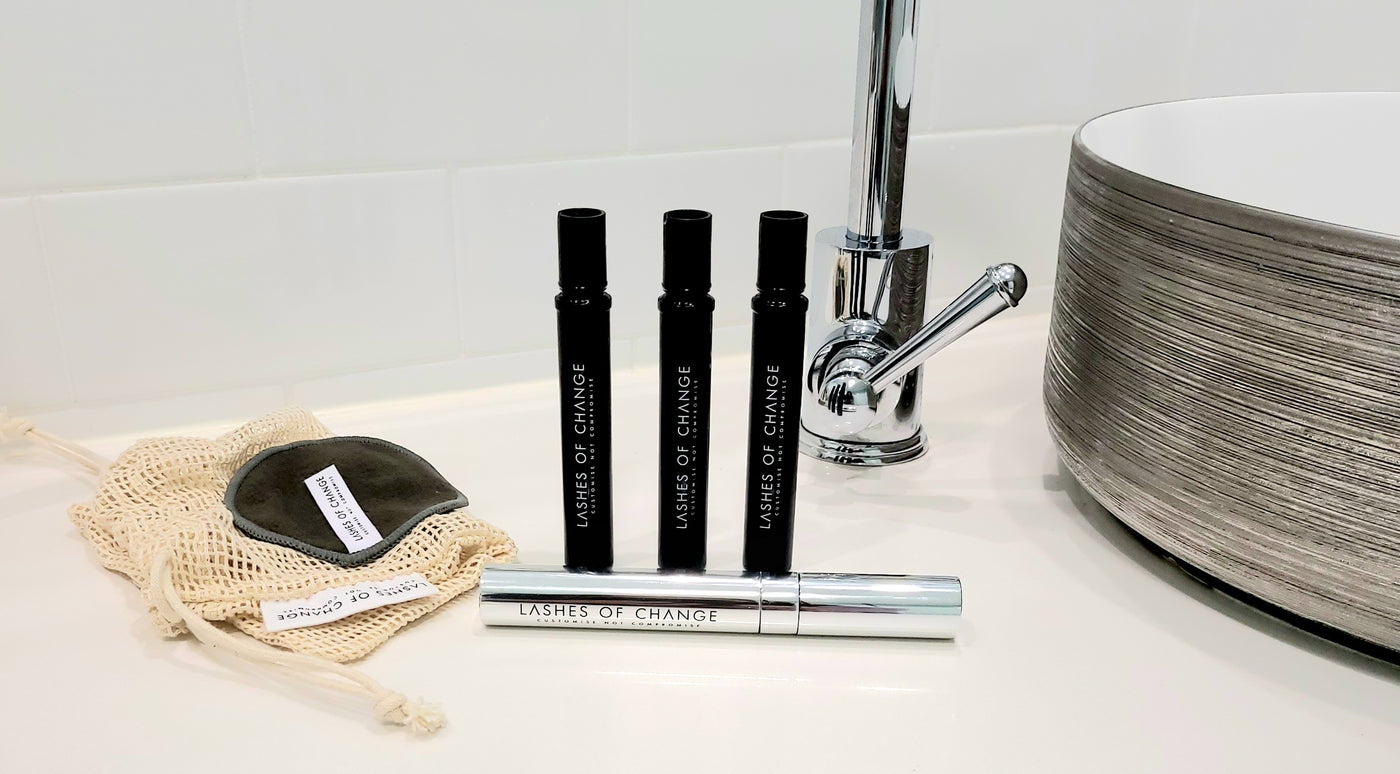 Sustainability
Sustainability isn't just a buzz word to us - Like you, we are eco warriors.
We LOVE our planet and understand that it's the little changes that we can all
make on a day to day basis that adds up to BIG change over time.
There is a serious problem with mass over production of beauty products... with it all ending up in landfill, damaging our planet;
BUT with some clever re designing it doesn't have to be that way.
Conscious manufacturing means that we do small production runs with sustainable materials that can be re-used and recycled. We know this
means a higher cost of production, but it's a small price to pay to make sure
that we are utilising our planets precious resources in the best way possible
with minimal waste.
Our commitment to this goal has lead us to deconstruct what mascara looks
like, and re-design it from the ground up to provide maximum functionality with
the least possible resources. This includes offering refill cartridges to
reduce landfill waste. Using recyclable materials like aluminium, PCR plastics
and cardboard. Our packaging is bio degradable. We know you will LOVE the
flexibility and sustainability of this new concept where ultimately you get to
choose!